5 good reasons to live in Iceland
There are countless reasons why Iceland is a wonderful place to live. Here are the best of the best (we think!)
1. Safe and clean
One clue of Iceland's safety (which often shocks foreign tourists) is seeing strollers with bundled-up babies sleeping outside houses, storefronts, and restaurants. (The fresh air helps them sleep!) We pride ourselves on our peacefulness and being the only NATO member without a standing military. Iceland ranks first on the Global Peace Index and has annually since the start of the index in 2008. The crime rate is exceedingly low, and Icelandic police do not carry guns! Children play outside unsupervised from an early age, often only returning when their dinner—or curfew starts! 
After the oil embargos of the early 1970s, Iceland had a strong incentive to look "deeper" into its energy reserves. Today, the country is a leader in sustainable energy and is powered almost 100% by hydroelectric and geothermal energy. (You may notice the slight sulfur smell when you turn on the hot water hinting at its geothermal origins) Sustainable energy and the lack of polluting industries have left Iceland's water, soil, and environment remarkably pristine. Please drink the water straight from the tap! Here is some of the cleanest water on the planet. A diet rich in fish, fresh air, and water has helped Icelanders reach an average life expectancy at birth of 83 years!
2. Equality
Iceland has made tremendous progress toward equal opportunities for women and men in society and their lives. Efforts toward gender equality are a matter of national pride. Annually, Iceland scores very high on the worldwide Social Progress Index in Inclusiveness and Acceptance of gays and lesbians. Icelanders are generally inclusive and tolerant of LGBTI individuals. Well-known Icelanders are open about their sexual orientation, including former prime minister (2009-2013) Jóhanna Sigurðardóttir, the world's first openly gay head of government in modern politics. The Pride Parade celebration is every August, and the midwinter Reykjavik Rainbow Winter Pride planned by the gay-friendly travel organizer Pink Iceland is extremely popular. Same-sex marriage has been legal since 2010 (registered partnerships in 1996), and since 2006, gay couples may adopt children. Because of Iceland's recognition and acceptance, the country has become a popular destination for gay weddings. 
3. Nature everywhere
Wherever you may be in Iceland, you are not far from the sea or the mountains. A 20-minute drive from downtown Reykjavík and you can find some alone time to hike in the mountains or walk along the beach. There are countless sightseeing opportunities with a wide variety of hiking and biking trails, horseback riding, golf (and frisbee golf) courses, and even surfing, to name a few. The proximity to nature is unique. It allows you to leave the office at the end of the day and get outside—especially during the long summer days. Do not exclude a winter visit! Cross-country and downhill skiing are not far from many Icelandic towns. There is plenty of time to witness the northern lights dancing across the winter skies from all over Iceland. Find out more on Visit Iceland.
4. Community and Culture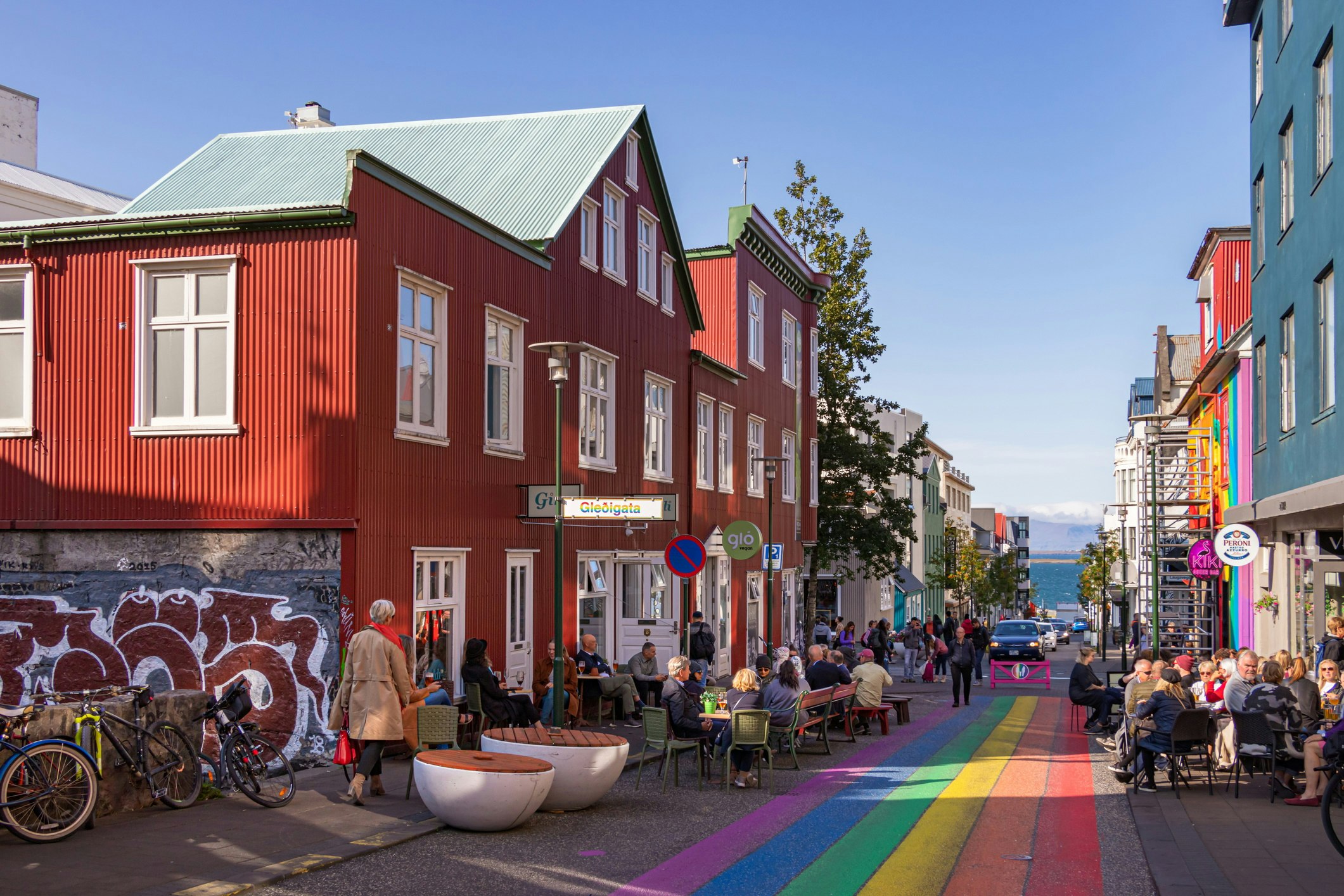 Iceland has a small population and a strong sense of community. Even the largest city, Reykjavik, has a seaside village feel, with the downtown walkable in an afternoon. There is a pleasant mix of old and new architecture in the city. It is a lovely place to slow down and enjoy simple pleasures.
On the flip side, Reykjavík is well known for its active nightlife and thriving music scene. There is a bar or club to match just about any mood. Yearly there is a variety of music and art festivals across the country with something for almost everyone. Thanks to the recent tourism boom, the Icelandic food scene has stepped up and offered a respectable fine dining scene.
5. Affordable healthcare and education
After living in Iceland legally for six months, you will become part of the Icelandic Health Insurance system. You won't pay more than ISK 25,000 for healthcare in a single month, and that number will decrease to ISK 4,183 in consecutive months. Services include physiotherapy, doctor's visits, treatment for long-term illnesses, scans, and hospital stays. Pregnancy check-ups and childbirth in Iceland are free of charge. 
Education in Iceland is affordable and very good. The schools themselves are free (primary through high school), but you pay extra for afterschool programs in the afternoon. Subsidized daycare is available for all children from the age of two, allowing both parents to work.