Iceland is a family-friendly place to live
We know moving to another country is challenging—and a bit stressful—but there are many opportunities for those who make Iceland home. If there is one unifying characteristic of Icelanders, they prioritize a healthy life-work balance that is family-centric. Perhaps this is not a huge surprise given the island's population of 360,000 and the almost algorithmic way Icelanders can connect to each other!
In July 2020, the family and travel resource website Asher & Lyric collected statistics from 30 trusted international sources to create their in-depth "Raising a Family Index." The index collates data from 35 OECD countries and not surprisingly (to us anyway), Iceland ranks #1. Asher & Lyric do a fantastic job of breaking the data down in a graphically clear way. 
Schools
Thoughts about schooling are probably at the top of your list for those who move to Iceland with children. Icelandic schools tend to be small (by many standards) and situated in neighborhoods where younger children (6-16) can walk to without having to cross major roads. There are no yellow school buses in Iceland! 
While immersing young children in Icelandic schools can be a tough transition language-wise, they adjust reasonably quickly, and there are many benefits of going to the local school such as the leisure grants, after school programs, sports, and music activities.
Leisure grants
Extracurricular activities are often subsidized for children aged 5/6-18 (starting on 1 January) with leisure grants (frístundastyrkur). Grants are on a municipal level. You are required to apply for activities in the same city or town as your registered domicile. Municipalities decide which activities are subsidized, and the total support per child. To apply for these grants, you must have access to the municipality's electronic system, which requires both an ID number (kennitala) and an electronic ID.
Hafnarfjörður (6-18) – information in Icelandic.
Mosfellsbær– information in Icelandic.
Seltjarnarnes – information in Icelandic.
Akureyri– information in Icelandic.
International schools
For those who are more comfortable learning in English, there are a few school options. These schools accommodate a range of ages and teaching methods and are located in the Reykjavík area:
Music studies
There are many excellent music schools in Iceland. Children can learn to play a variety of instruments both traditionally and by the Suzuki method. Here you can explore Music Schools in Iceland and find one that suits your needs best. Classes are not just for the youth! 
Choirs
Joining a choir is a great way to meet Icelanders. There are over 300 choirs across Iceland, including church, women's, men's, children's, and mixed choirs. Singing is a great way to learn Icelandic and the often dramatic stories behind the songs. 
To find out more, check out the National Assembly of Choirs in Iceland and visit your local church to hear a choir near you.
Sports
Afterschool sports are popular in Iceland and are through local or municipal clubs. Even small towns often have their own recreation center with football (soccer) fields, swimming pools, and indoor facilities. 20 years ago, Iceland began to emphasizing sports as a measure to lower teen alcohol and smoking rates. The effort was a wildly successful program—still in effect—that emphasizes curfews and encourages families to eat together and to plan evening and weekend activities. 
There are plenty of sports options to choose from. Speak to your local club or the school your children go to for more information. Icelanders are particularly fond of soccer, handball, and basketball. The traditional Icelandic sport is wrestling (glíma), but martial arts such as taekwondo, judo, and karate are also popular. There are gymnastics, ice skating, skiing, and even bowling on offer! Crossfit is increasingly popular in Iceland, with many Icelanders placing exceptionally well in world championships. Dance lessons are also available, with ballet and contemporary dance being the most common, but Kramhúsið offers many exciting options. 
Child benefits
Depending on your income, you may be entitled to child benefits. The rules regarding child benefits such as the maximum annual income and exact amounts can be found at the Directorate of Internal Revenue. You can calculate this sum with your real salary.
Since the calculator is only available in Icelandic, here are some translations to help you: 
Hjúskaparstaða = Marital status
Einstætt foreldri = Single parent
Hjón/Í sambúð = Married or cohabiting
Tekjuár = Salary year
Tekjuár = Salary year
Tekjustofn ársins = This year's total income (before taxes)
Fjöldi barna = How many children do you have? 
þar af undir 7 ára = How many of them are under the age of 7?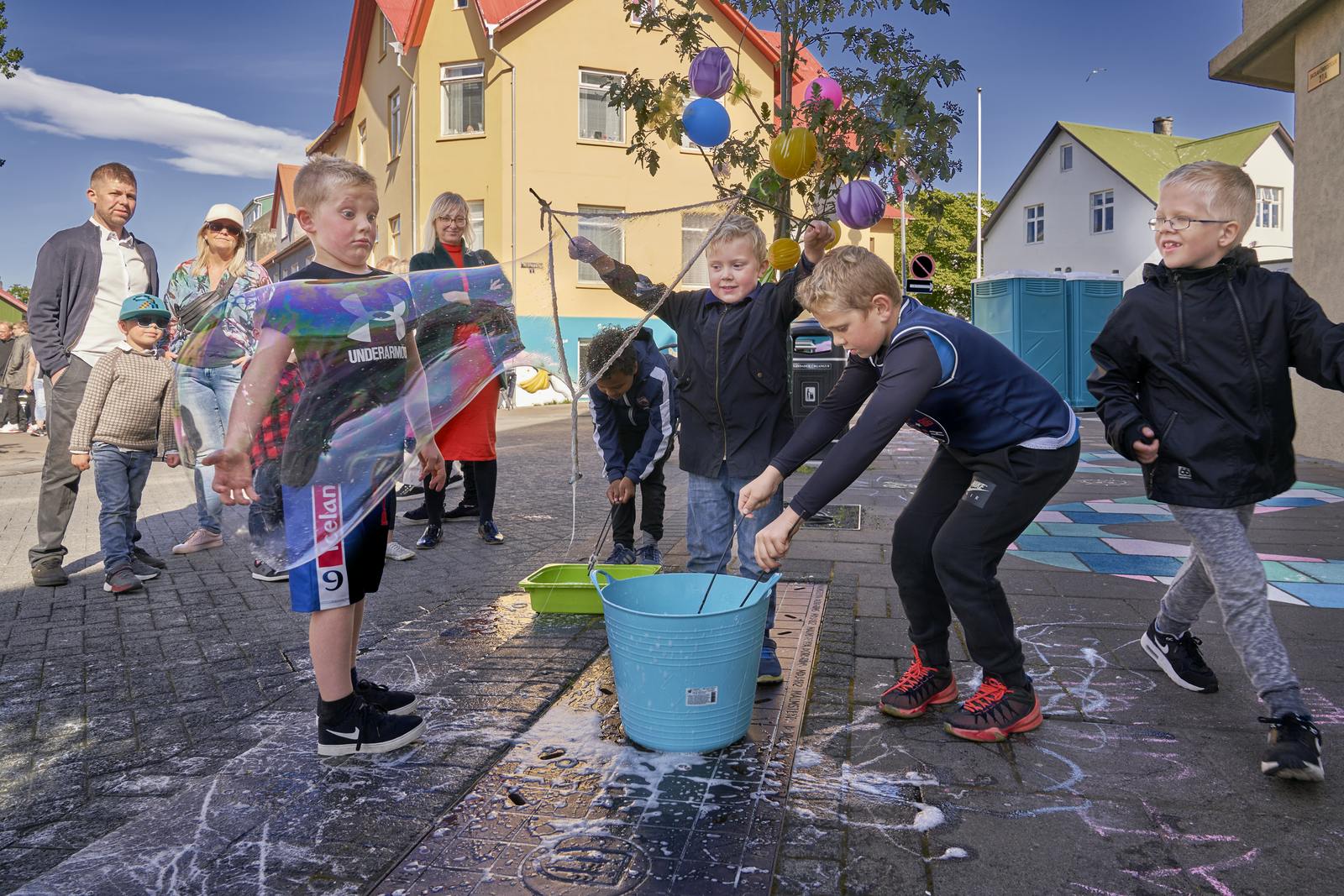 Children playing outside
Sleeping babies
One clue of Iceland's safety (and often shocks foreign tourists) are the strollers with bundled-up babies sleeping outside of houses, storefronts, and restaurants. It's no secret that fresh air helps them sleep better. Of course, it is not required to leave babies outside, and they are more than welcome inside!
Curfews for children
Children are allowed to play outside without adult supervision with a few rules. Until age 12, the curfew is 8 PM, for ages 13-16 is 10 PM. During the summer, the curfew is extended for two hours. These times are the same on the weekdays and the weekends. It is up to the parents to decide at what age they allow their children to start playing outside. Usually, the children are ready when they know how to safely cross roads and know their way home. 
Children & Culture
Children's Culture Festival
Every April, there is a Children's Culture Festival in Reykjavik that is part of the school's curriculum. The focus of the festival is to encourage creativity through art, storytelling, music, art, and film in children under age 16. Activities take place across the city. Some participants even get the chance to sing on the main stage at the Harpa Concert Hall! There are theater productions written and performed by children and an array of musical and art performances.
Film Festivals
Bio Paradis has a Children's Film Festival running during the same dates as the Children's Culture Festival. It offers you a nostalgic chance to see famous children's movies on the big screen. Throughout the year, there are events specifically for children advertised on this Facebook page. In October, coinciding with the Reykjavik International Film Festival is a unique program with films for kids along with the official festival program.
Theater
There is a thriving children's theater scene in Iceland with exceptional production values. Usually, tickets are bought separately for each child and adult in the group. The National Theatre of Iceland makes sure to include children's plays in their programming each year. The Reykjavik City Theatre also presents some children's plays each year. They also offer acting courses for children ages 9-13.
Another theatre that is known for its avant-garde productions is Tjarnarbíó. They include children's plays in their schedule each year, although they are usually only screened a few times. 
Icelandic Circus
Despite having a small population, Iceland boasts its very own circus. The Icelandic Circus operates during summer (although they do offer lessons for 9-13-year-olds in wintertime). Their show "Sirkus Íslands" (Iceland's circus) is for children, and the show "Skinnsemi" (wordplay between being responsible and showing some skin) is for adults. 
Children's day in Viðey
Annually, the Viðey Island hosts the Children's Day. The small island is just a short ferry ride from Reykjavík and hosts a full afternoon of free, family-friendly activities. Dates and times are subject to change, so check the Facebook page for Viðey (Videy Island) for current information.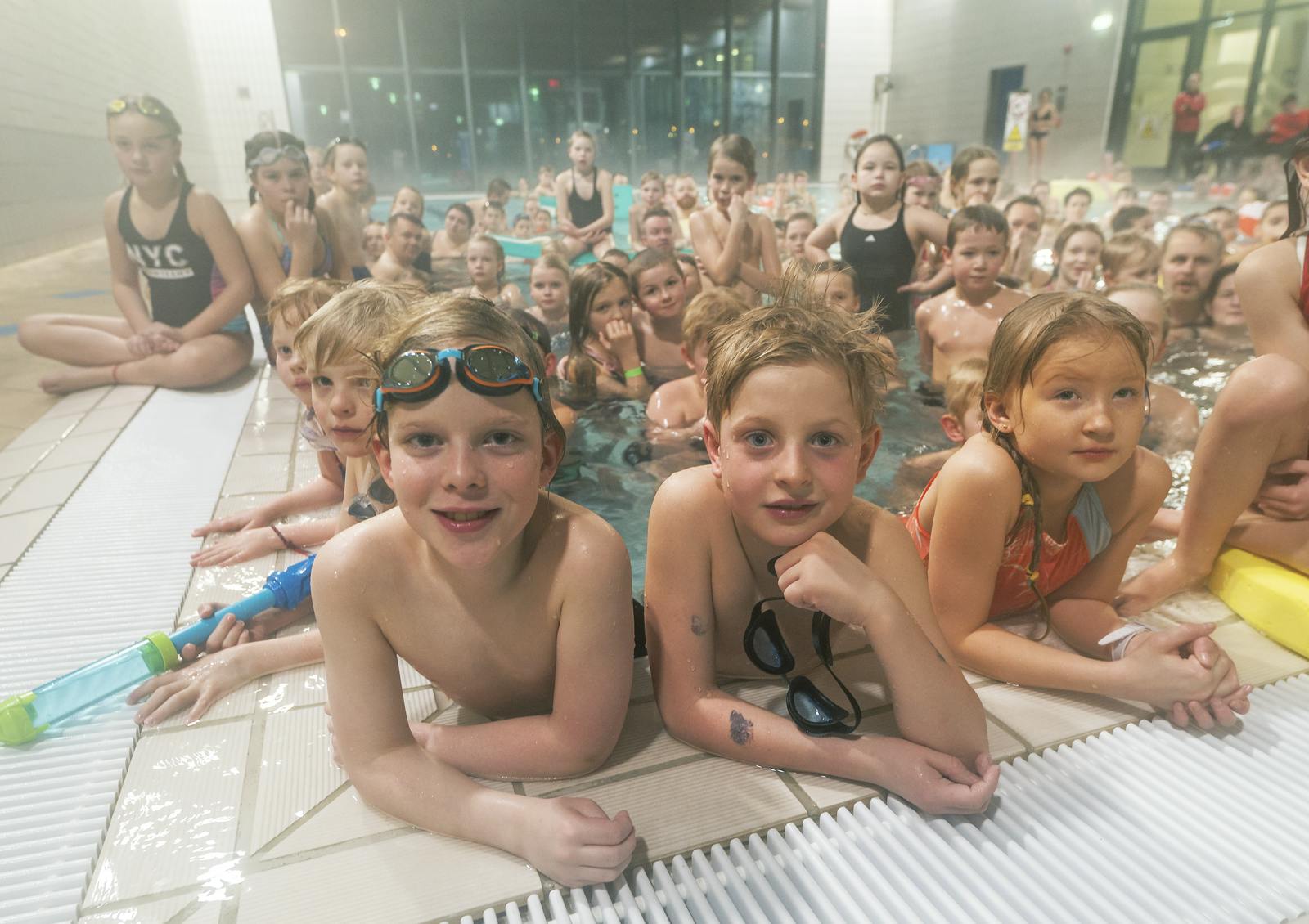 Family-friendly activities 


Certain activities are very popular with Icelandic families, here are a few of them.
Playgrounds
Throughout neighborhoods, you will find playgrounds designed for children of all ages. Playgrounds are often next to schools and kindergartens and are available when school is not in session. Icelanders encourage their children to play outside in all weather. As Icelanders like to say, "There is no such thing as bad weather, only bad clothing." 
A list of playgrounds in Reykjavik
Swimming
If it were not for Iceland's geothermal riches, it would be a much tougher place to live! One of the best aspects of living in Iceland is the sublime swimming pools. The pools (almost all of them) are heated with geothermal water and provide year-round swimming. Most neighborhoods have a swimming pool (or pools) with hot pots (heitir pottar) for soaking, water slides, and water play zones for children.  
Swimming pools
Here is a list of swimming pools in Iceland's most populous areas:
Reykjavik or download Visit Reykjavik's pool map 
Swimming lessons & Ungbarnasund: Swimming lessons are part of the curriculum for ages 6-16, with many schools having their own pool. Private swim lessons and baby swim lessons (ungbarnasund in Icelandic) are popular too—many start at 3-4 months old! Here are a few private swimming instructors for baby swimming, lessons for children, and even adults.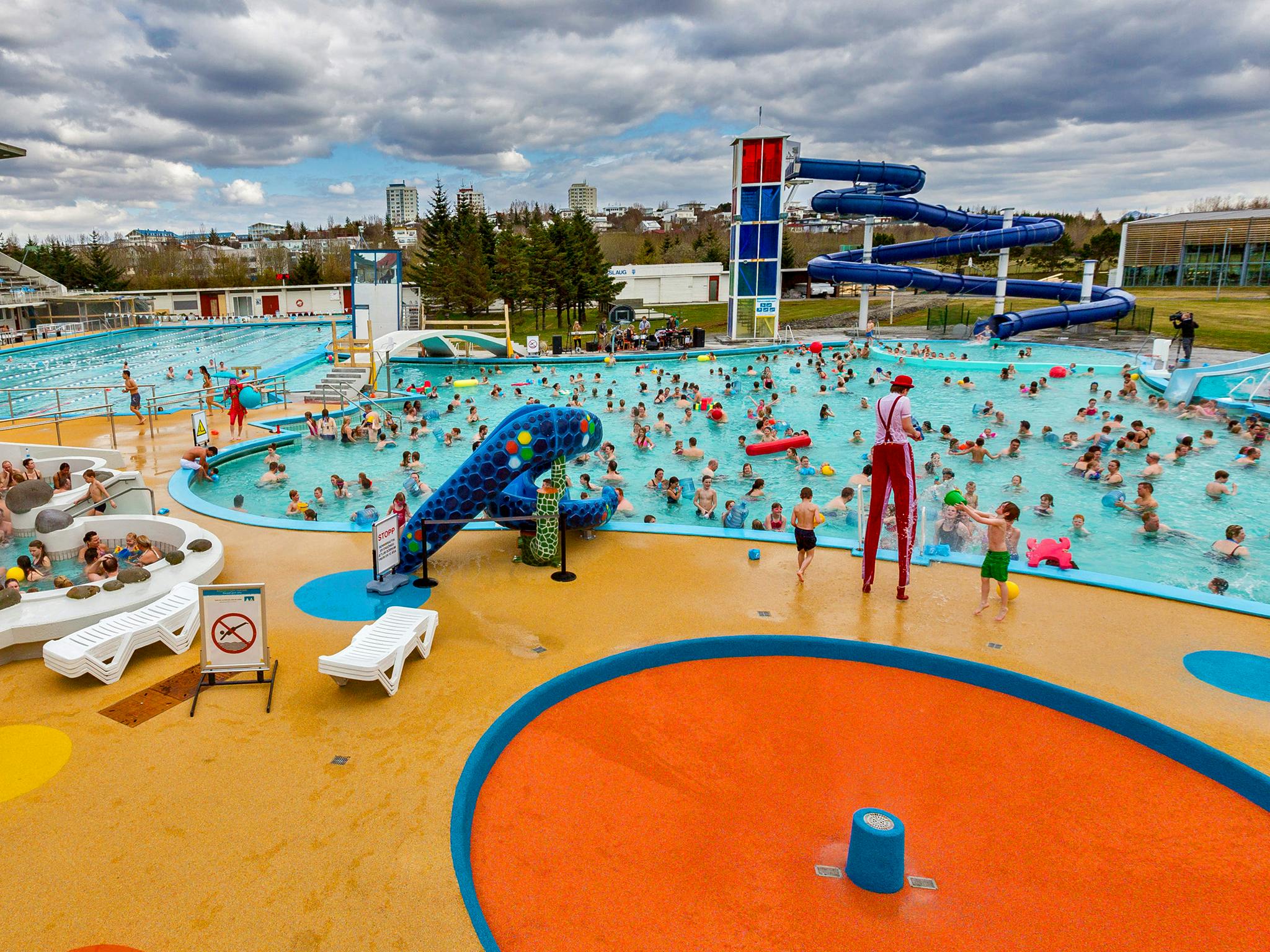 Natural pools: If you are more interested in natural hot springs or pools or spas, here you can find an alternative list. The directory is in Icelandic, but you can choose the natural pools' names to find a link to their website. For many, you will likely need a car to reach them, and some areas are only reachable in the summertime or with a jeep.
Libraries
Libraries often have designated play areas for children and books and magazines in many languages. Many also host meetings and events for adults and children. Check your local library for their schedule. View a list of public libraries.
Hiking
With so many mountains close by, hiking is a favorite activity. Nearby Reykjavik there are many ideal spots for a picnic and easy walks such as Laugardalur, Elliðaárdalur, and Heiðmörk. There are frisbee golf courses throughout Iceland with many in the capital area. For a list of the green regions in Reykjavik, please visit Reykjavik.is. It is safe to say that nature is never far away, no matter where you are in Iceland. 
Ferðafélag Íslands operates free hikes for children that often incorporate outdoor educational activities such as plant and tree identification, finding edible fruits and mushrooms, and identifying birds.
Húsdýragarðurinn zoo and amusement park
This is an Icelandic must-see. Húsdýragarðurinn is a small and friendly collection of Icelandic farm animals, rescued seals, and other native animals undergoing rehabilitation. There are no tigers or elephants, but children often enjoy spending the day here. There is an excellent playground with loads of activities, including a pirate ship, a giant sandbox with mechanical buckets and waterways, and various play areas. There are also amusement rides that require paid tickets or a season's pass. View here.
Tjörnin in downtown Reykjavík
Just about everyone has fed the ducks and geese downtown at Tjörnin. Remember not to feed them bread, but rather oats, seeds, or lettuce. Great place for bird and people watching!